Share this product with a friend.
Details:
We're pleased to introduce the Eagle Tree OSD Pro.The OSD Pro displays all the key information about your model's status, and has many advanced features such as voice alerts, high resolution raster graphics, a new airplane icon "RADAR" synthetic map, "Return to Home," Artificial Horizon display, and waypoints within visual range.
How it Works
The OSD Pro is a powerful, modular, fully configurable Video/Audio On-Screen Display (OSD) device, providing graphics, voice announcements, alarms, acoustic variometer with total energy compensation, Home Arrow, Return to Home, Failsafe, "Radar" is the airplane icon on the screen, waypoints, a flight simulator for testing, and many other features.
The information displayed can be as simple or advanced as you like, depending on how you configure the display, and on which optional Eagle Tree sensor you connect.
All parameters available with our eLogger V4 and Data Recorders + optional sensors will be supported for display on the OSD Pro.
Here are some examples:
* GPS Parameters (Distance to Home, Home Arrow, GPS Altitude, Ground Speed, Course, and more)
* Electrical Parameters (Pack Volts, Amperage, RX Volts, Servo Current, Milliamp-Hours, Watts)
* Performance Parameters (Airspeed, Barometric Altitude, Climb Rate, Variometer, Temperatures, RPM, G-Force, EGT, Jet ECU Status, servo positions)
* Receiver Health (Dropped Frames, Antenna Fades, Missed Packets – requires Spektrum or JR FlightLog compatible Receiver)
* Call Sign, and many more
New: Artifical Horizon Display
---
See the video below for an example of the AHI display tracking the horizon:
Click here to see a diagram on how to connect the OSD Pro.
---
- eLogger V4 80 volts 100A current sensor with integrated connectors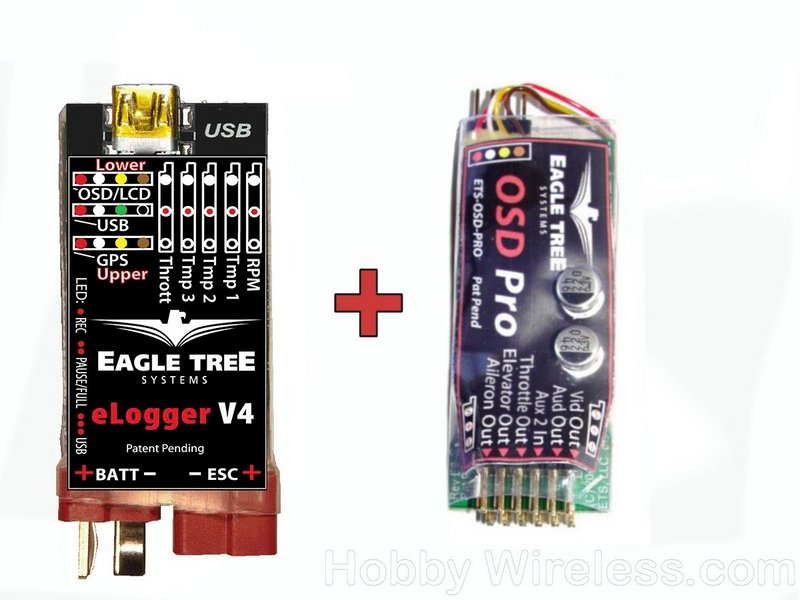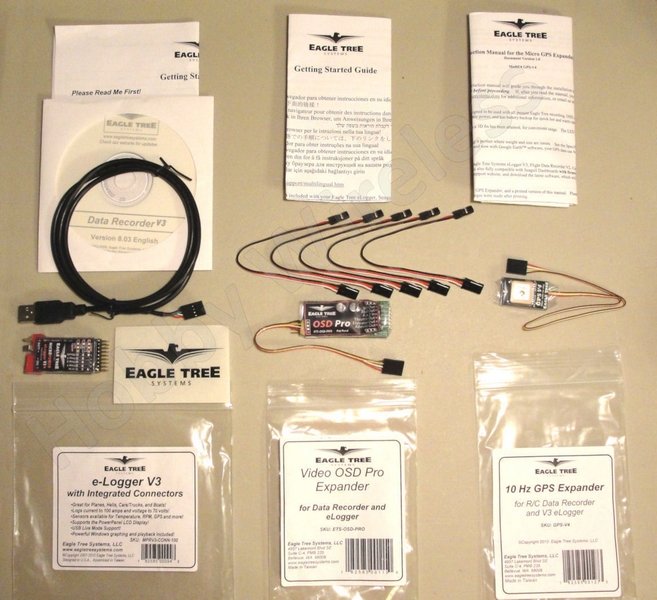 ---



– If you need more information, use these Eagle Tree Systems resources –

E-mail: sales@eagletreesystems.com


Web Site: www.eagletreesystems.com/Support/support.html  

 



Eagle Tree Systems




4957 LAKEMONT BLVD SE




BELLEVUE, WA 98006  Phone: 425-614-0450
---
Current Reviews: 0
This product was added to our catalog on Tuesday 03 November, 2009.
Customers who bought this product also purchased...