Share this product with a friend.
Details:
This is the best choice if you are that kind of person who likes everything simple, easy and organized.
It is a high sensitivity receiver, with 8 selectable channels and digital Phase-Lock-Loop circuit avoiding frequency drifting problems. A very stable and good looking receiver.
No hassle with battery wires, and pluggs, because it comes with a built-in tiny Li-on 3.7 volts 2200mA battery and also a wall charger, which will fully charge the battery within 4 hours.
One full charged battery will power your receiver for at least 3 hours.
It has ultra bright blue LEDs indicating the channel in use.
---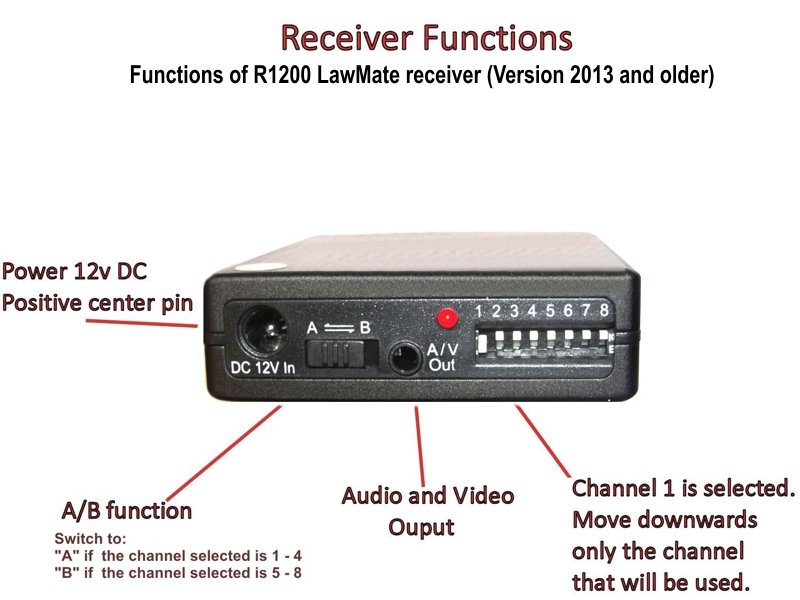 ---
Channels
CH4-2470Mhz
CH5-2310Mhz
CH7-2490Mhz
CH8-2510Mhz
- 1.2 GHz audio and video
- 8 selectable channels
- Digital Phase-Lock-Loop circuit no frequency dirft
- Built 3.7 volts 2200mA rechargeable Li-on battery
- Supply current Vcc: 240mA (maximum).
- RF sensitivity: -85dBm (typical).
- Audio Sub-carrier 6.5MHz.
- Video input voltage 75-ohm impedance: 1Vp-p
- Audio input voltage 10k ohm impedance: 1Vp-p
- Dimension and weight 110 x 70 x 20mm,
- Weight 4.7oz (130g
)
- Ultra bright blue LEDs channel indicator
- SMA antenna connector.
- Battery level indicator LEDs
- Anodized aluminum case
Package includes
- 2.4Ghz Deluxe Portable Receiver.
- 3.7 volts 2200mAh Lion rechargeable battery.
- Wall Charger.
- 3dBi detachable SMA antenna.
- Audio and Video Cable, with RCA connector allowing you to connect straight your receiver to a TV, VCR, camcorder, MP4, or any recorder with analogue video input.
---
---
Current Reviews: 0
This product was added to our catalog on Sunday 18 May, 2008.
Customers who bought this product also purchased...