Share this product with a friend.
Details:
This system is great for those who want to do their own wiring and custom connections. If you don't want to do any soldering and customizing the harness making your own, then we suggest the FPV1024 a plug and play which is the same but FPV customized version of this system.
The transmitter including to this kit is a power house, providing a 1000 miliwatts of pure RF output.
It's perfect for long range applications, (for RC models: it is recommended to install the transmitter as far as possible away from the model's receiver) Even with all this power it only weights around 1oz 30 grams .It's highly recommended install the transmitter in ventilated areas, to allow the air to keep it cool.
The system can be powered using any DC power source from 10.5 to 13 volts DC example: 3 cells lithium polymer battery works great.
Get the most out of this system using any of our high gain antenna for the receiver, and increase the range for more than 4 miles plus !!!
Note: We do not recommend the use of 2.4 GHz video system, with any 2.4Ghz radio controlled vehicles. In this case our 900Mhz or 1.2Ghz systems are the right choice.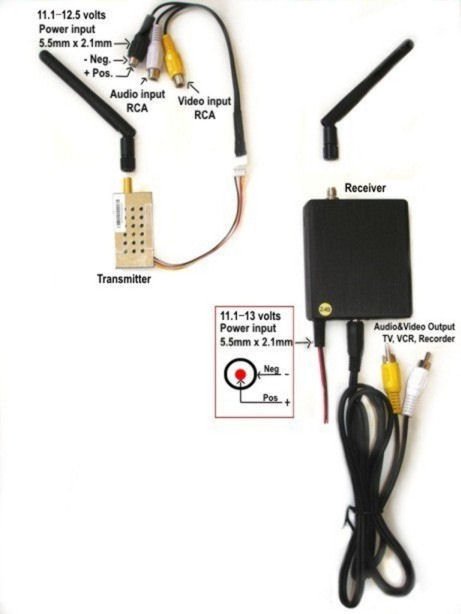 Package Includes:
- Transmitter 2.4ghz 1000mW with RCA cable for audio and video input.
- High Sensitivity Receiver R2400-STD, compatible to PAL , NTSC and SECAM.
- Receiver's Audio and video output cable with RCA connectors
- One set of two 3dBi antennas
Transmitter Specs:
-1000mW RF output power 2.4 GHz frequency band
-Works with any camera PAL or NTSC
- Digital Phase-Lock-Loop circuit no drifting problem
- Audio and Video cable with RCA adapter
- Detachable SMA Antenna
- Audio Sub-Carrier 6.5 MHz
- Operation Voltage 10.5-13 volts DC volts
- Consumption Current 450mAh
- Transmitter weight 35 grams
- Dimensions 50x26x13 mm
Receiver Specs:
- Operating voltage from 10.5 to 13 volts DC - 240mA power consumption
- 2.4 GHz frequency band
- Dimensions 80 x 63 x 20mm
- Detachable SMA Omni antenna
- Power Plug for receiver and transmitter is needed
Click here
Notes:
All transmitters shipped to any addresses within US territory will have only the Channel 1 (2410 MHz) available. In order to use it within USA an amateur radio license is required. Any illegal operation and/or changes made by the user to the transmitter will be totally the user's responsibility.
No license is required to purchase it, however in order to legally operate within USA an amateur radio license is required.
Disclaimer: Hobby Wireless is not responsible any damage, loss, illegal operation or changes made by the user to the transmitter will be totally the user's responsibility.
Avoid Permanent Damage: Before applying power to your transmitter and receiver, double check for correct polarity. Also make sure the power source doesn't exceed 13.5 VDC which will not be covered by the warranty.
---
Current Reviews: 0
This product was added to our catalog on Sunday 18 May, 2008.
Customers who bought this product also purchased...